California's Film & TV Tax Credit Program Welcomes Big-Budget Films and Diverse Roster of Indies
 "Under My Skin" and Quentin Tarantino's "#10" Will Each Bring More than $100 Million in
Qualified Spending; All 16 Projects Will Shoot Entirely In-State to
Employ Thousands of Californians
Hollywood, Calif. – September 8, 2023 – The California Film Commission (CFC) today announced that it will welcome three big-budget feature film projects and a diverse roster of 13 independent films to the state's Film & TV Tax Credit Program 3.0.
In all, the projects are on track to bring $670 million in total production spending to California, including an estimated $466 million in "qualified" expenditures (defined as wages to below-the-line workers and payments to in-state vendors). They will employ an estimated 2,422 crew, 851 cast and 23,427 actors and stand-ins. Production will be spread over a combined 626 filming days in California, including 98 filming days outside the Los Angeles 30-Mile Studio Zone (see "Fiscal Year 4 – Allocation #2 Out of Zone Filming" chart below). Notably, the projects plan zero filming days outside of California.
"While production is now drastically reduced, today's news about projects in our tax credit program signals there will be a much-welcome surge in California-based production once the strikes are resolved," said California Film Commission Executive Director Colleen Bell.
The three big-budget films announced today are Quentin Tarantino's "#10," "Under My Skin" and Untitled Netflix Project – each with qualified spending of more than $100 million. Combined, the three projects will generate an estimated $362 million in qualified spending and $540 million in total production spending in California. These figures are a record for California's tax credit program in terms of big-budget film spending generated by a single round of tax credits. The previous record of $265 million in qualified spending and $433 in total spending was achieved with the last film allocation round announced in March 2023).
Writer/Director/Producer Quentin Tarantino affirmed the unique benefits of filming in the Golden State: "I love shooting in California. I started directing movies here and it is only fitting that I shoot my final motion picture in the cinema capital of the world. There is nothing like shooting in my hometown; the crews are the best I've ever worked with, and the locations are amazing. The producers and I are thrilled to be making #10 in Los Angeles."
The 13 independent projects announced today represent diverse filmmakers and storylines. Together, they will generate a combined $104 million in qualified spending and $130 million in total in-state spending. Their per-project qualified spending ranges from $2.6 million to $27 million.
The indies include projects from parent company Faith Media along with other independent projects tackling storylines ranging from the immigrant's journey ("Chalino") to LGBTQ+ relationships ("Saturn Return").
"Once again, Faith Media Distribution has been blessed with tax credits for our amazing projects that are slated to shoot in Los Angeles once the strikes are over," said Producer Yolanda Halley. "I'm a resident of California and it brings me great joy to work with locals and to take advantage of all the amazing things the state has to offer. Thank you, California Film Commission, for making my job as an independent producer more enjoyable and fulfilling while creating jobs and working from my home state."
In addition to direct production spending, the 16 projects announced today will also generate significant postproduction jobs and revenue for California visual effects artists, sound editors, sound mixers, musicians and other industry workers/vendors.
The California Film Commission received a total of 55 applications during the latest feature film tax credit application period. It has reserved $77.8 million in tax credit allocation for the 16 conditionally approved projects (see "Fiscal Year 4 – Allocation #2 Conditionally Approved Projects" chart below).
Given the current strikes affecting the production industry, projects are expected to invoke the tax credit program's force majeure provision, thereby pausing the 180-day start date requirement for principal photography. As with all projects accepted into the CFC's highly targeted tax credit program, credits will not be awarded until production wraps and all related wages and expenses have been paid.
The next application period for feature films will be held January 8 – 15, 2024. The next application period for TV projects will be held September 4 – 13.
About California's Film and Television Tax Credit Program
In 2014, the California legislature passed a bill that more than tripled the size of the state's film and television production incentive from $100 million to $330 million annually. Aimed at retaining and attracting production jobs and economic activity across the state, the California Film and TV Tax Credit Program 2.0 also extended eligibility to include a range of project types (big-budget feature films, TV pilots and 1-hr. TV series for any distribution outlet). The current third generation of the California Film and TV Tax Credit Program (dubbed "Program 3.0") was launched on July 1, 2020.
More information about the program, including application procedures, eligibility, and guidelines, is available at http://www.film.ca.gov/tax-credit/.
Charts Attached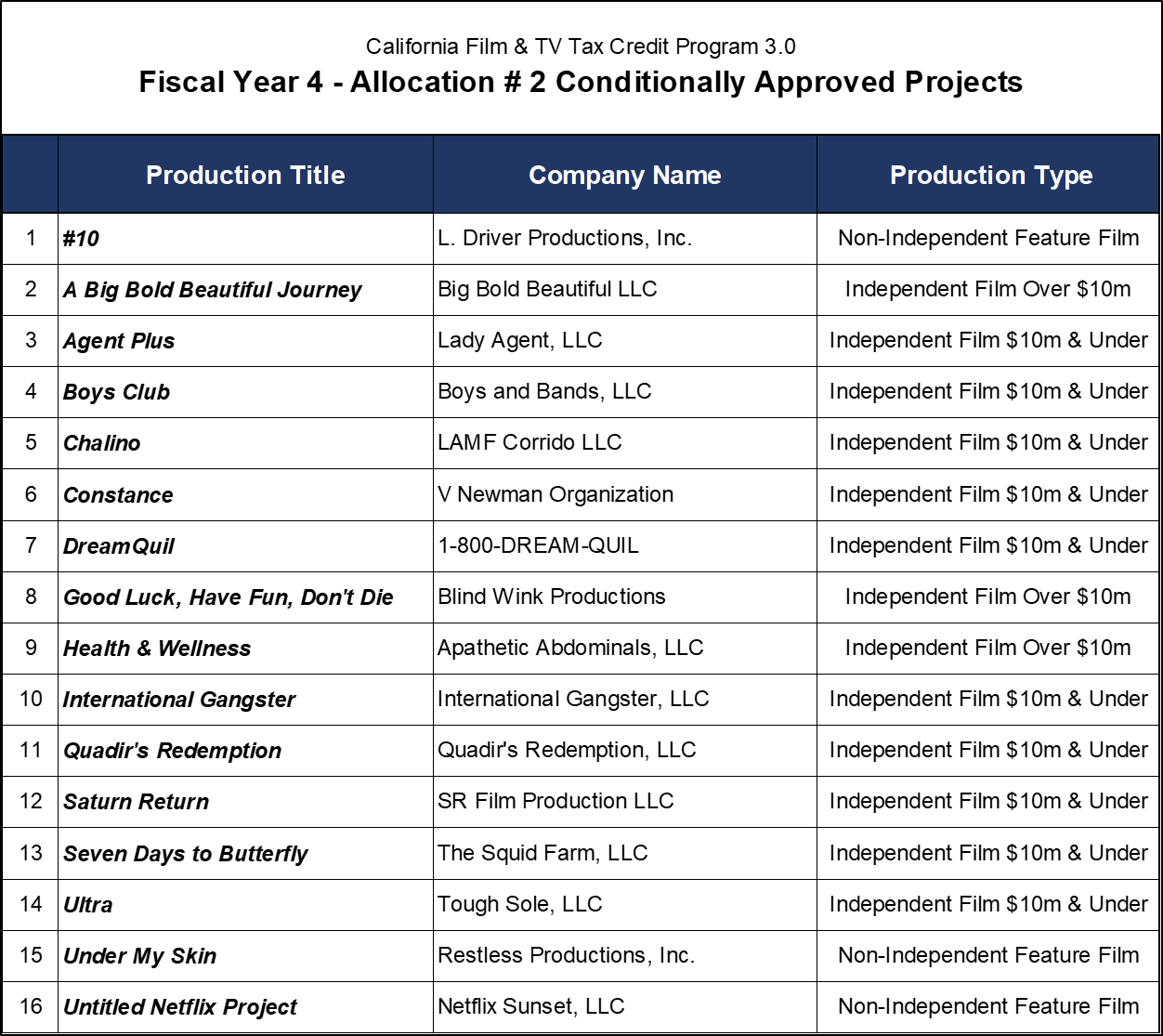 Erik Deutsch
ExcelPR Group (for the California Film Commission)
(323) 851-2455 direct
Email Erik, HERE
California Film Commission
7080 Hollywood Blvd., Suite 900
Los Angeles, CA 90028
Tel: 323.860.2960 | 800.858.4749
Email the CFC | About Us
Stay Informed! Sign Up:
Newsletters
Production Alerts
Soundstage Alerts
Careers
Download the Cinemascout app!